As my country's investment intensity and market demand have weakened to varying degrees, the economic operation of the explosion-proof electrical appliance industry has significantly cooled down, and the prosperity of the production and operation form is not high. The specific performance is that the production and sales indicators and ordering volume of enterprises have been declining, and corporate profits have been significantly reduced. In order to promote the sustainable and healthy development of my country's explosion-proof electrical appliances industry, it is necessary to face up to and solve many difficulties and problems.
Ningbo Jiuwo Explosion-proof Technology Co., Ltd. mainly develops, produces and sells industrial explosion-proof, security communication service dispatching systems, explosion-proof telephones, waterproof telephones, fiber optic telephones, bank and prison telephones, explosion-proof monitoring and other products, in the explosion-proof communication industry Leading.
Explosion-proof electrical industry basically meets market needs
After years of development, my country's explosion-proof electrical appliances industry has achieved rapid development, especially mine explosion-proof electrical appliances have entered a period of steady and rapid development with the development of the coal industry. At present, the production pattern of explosion-proof electrical appliances for factories has basically taken shape.
The development and progress of mine explosion-proof electrical products are clearly marked as coal mine electrical automation technology, coal mine safety production monitoring system and other automation products have reached a certain level, mechatronics technology, power electronic speed control technology in coal mine transportation machinery, hoisting machinery It is widely used in coal mining machinery. At present, a relatively complete explosion-proof product manufacturing system has been formed, which basically meets the needs of coal mine underground power supply and distribution, underground mechanization, and control and protection.
Facing many difficult problems
With the rapid development of the explosion-proof electrical appliance industry, there are some unfavorable factors and problems affecting the development both at the macro and micro levels. On the whole, it faces difficulties and challenges in terms of insufficient external demand, overcapacity, rising labor costs, and rising raw material costs.
1. Insufficient innovation ability. Up to now, there are still very few companies in my country's explosion-proof electrical appliance industry that have independent R&D capabilities. The vast majority of small companies basically do not have product development capabilities. Some small companies do not even have basic engineering and technical personnel, but they are blind. Local production of explosion-proof electrical products. Due to the serious lack of innovation capabilities of these companies, it has greatly affected the improvement of the overall technical level of the industry, resulting in a lack of competitiveness in the international market.
2. The product sales and circulation area is rather chaotic. Some explosion-proof electrical appliance manufacturers lack market research and have fewer new technologies and products, which cannot meet market needs. Low-level, repetitive production of some low-end products, relying on low prices to gain market share. Some small enterprises have serious product quality problems, and there is still a market for counterfeit and inferior products. The circulation of such fake and inferior products in the market not only causes great economic losses to users, but also disrupts normal business order, which is not only detrimental to the development of enterprises, but also restricts and affects the technological progress of the industry.
3. The concentration of enterprises is scattered. There are a large number of explosion-proof electrical appliances manufacturers, and most of them are small in scale and have a low level of corporate management. The technical content of the product is not high, and the product update speed is slow.
Fourth, market demand has shrunk. The sluggish domestic and foreign markets have led to a sharp drop in the export volume and export prices of enterprises, the contradiction of overcapacity has become increasingly prominent, and the utilization rate of enterprise equipment has declined significantly.
5. There are still financing difficulties. The financing difficulties of some small and medium-sized enterprises in the whole industry are still outstanding, and the shortage of funds is still serious.
Take steps to meet the challenge
Looking at the development of my country's explosion-proof electrical appliances industry, despite the shortcomings and challenges, the development prospects are still bright. Experts believe that based on the current macro background, the process of economic recovery in the explosion-proof electrical appliance industry may be relatively long, so it is urgent to accelerate the transformation and upgrading of the industry.
The current key is to make great efforts to develop technology, improve quality, and establish a lofty and sustainable development goal.
In this context, manufacturers of explosion-proof electrical appliances must actively take measures to deal with difficulties and challenges. On the one hand, it is responding to rising cost pressures by improving the management level, and on the other hand, accelerating the pace of enterprise transformation and upgrading by increasing investment in innovation.
1. Adjust product structure. Further improve and improve the technical content of current products, especially in terms of structure, to make it safe and reliable in performance, beautiful in appearance, and practical. At the same time, a large number of new technologies are used to develop new products, improve product performance, and strengthen systematic engineering construction.
Intensify efforts to develop new products and bring its technical content to a new level. Technological innovation is an important indicator basis for measuring whether an enterprise is advanced, whether it has market competitiveness, and whether it can continue to rely on competitors. With the rapid development of my country's mining electrical appliances market, the application and research and development of related core production technologies will surely become the focus of attention of enterprises. It is necessary to keep abreast of the development trends, process equipment, technology applications and trends of core technologies for the production of explosion-proof electrical appliances at home and abroad in order to further improve market competitiveness. At present, in the field of motor starting, soft start is quietly emerging, but it is rarely used in the field of explosion-proof electrical appliances. Through continuous efforts, promote the application and development of soft start in the explosion-proof electrical industry.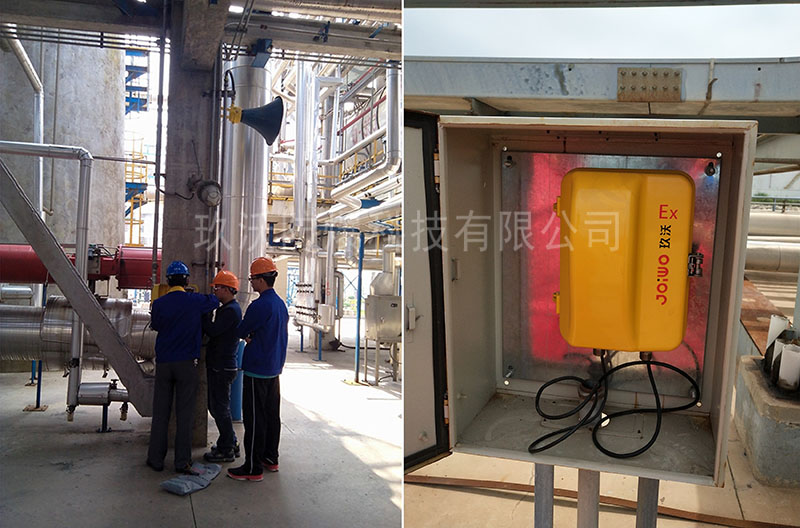 Don't forget why we set off just because we went too far. Bloom, don't be shy, meet the challenge and inspire your energy!
Ningbo Jiuwo Explosion-proof Technology Co., Ltd. established the "Jiuwo" brand operation team at the beginning of its establishment. With high-quality products and services, Jiuwo has become the network supplier of many well-known enterprises at home and abroad, and its products are widely used in pipe corridors and highways. , Tunnels, petroleum, chemical, coal, electric power, railways, metallurgy, shipbuilding, fire protection and other industries, sell well in domestic provinces and cities and more than 20 countries, and are well received by users.
(Part of the content is reproduced)